If you have found an animal that is acting erratic or could cause bodily harm to you, please call your local animal control.
If you have questions about the species that you have found or are not sure if it is injured, please visit the DEEP website for more information.
Please note that we cannot take orphaned or baby wildlife
Injured Birds:
Please note that we are NOT able to accept or treat any wildlife birds until further notice at the advice of the state veterinarian due to the avian influenza outbreak in our area. Avian influenza is a highly contagious and deadly virus. Some signs of AI may include stumbling and falling, swelling around the head, eyes and neck, nasal discharge, or respiratory distress. For more information regarding avian influenza, please visit our website at www.kbahonline.com or the deep website.
If you have found a deceased wildlife bird, do not touch it with your bare hands. It should be disposed of properly either by burying or in a double bag placed in your garbage receptacle. If you have found a live bird that you suspect may have avian influenza or if you have found several dead birds in the same area, please call the Connecticut state veterinarian at 860-713-2505 or the DEEP Wildlife Division at 860-424-3011.
For more information regarding avian influenza, please click here.
Baby Birds: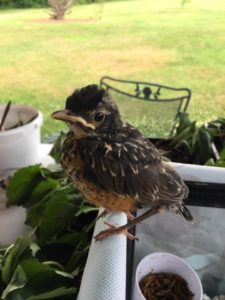 If you have found a young bird with feathers that is hopping on the ground, this is a fledgling bird and it may do this for a couple of weeks and unless it is in obvious danger, please leave it be.
Injured Small Mammals:
We are only legally able to accept and treat INJURED small mammal wildlife at our hospital at this time, including injured squirrels, chipmunks, and opossums. Please bring these species only directly to our office at 977 Farmington Avenue, Berlin, CT 06037 and remain outside. Please use box or other carrier to transport the animal to our facility. Please do not enter the building and do not call. There is no charge for this service.
When you arrive, remain outside and complete the injured wildlife form inside the wildlife drop box, which is marked with a yellow sign and mounted to our building, to the left of our main entrance. Once complete, ring the green doorbell located inside the drop box and a staff member will be out to assist you. Please be patient as we continue to see scheduled appointments.
Our staff will assess the animal and provide the proper course of care to stabilize until the wildlife animal can be sent to a licensed rehabilitator. If you have additional questions, please call our office at 860-828-7736. Status updates will not be given due to the volume of cases treated.